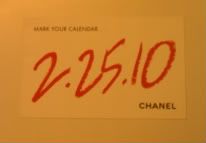 That's right mark your calendars!
Saks Fifth Ave in NYC will have the official Coco Rouge unveiling on February 25th, 2010.
There will be 15 new shades and I can't wait to play with the colors especially Genial which was featured in the Spring Couture 2010 collection.
Call to book your appointment 212-940-2151 .
Saks Fifth Avenue
611 5th Avenue
New York, NY 10022